Real Simple
Kids are home for the summer so now is the time to spend an afternoon trying on clothes and tossing the outgrown!!
Clothes for your little ones have sentimental attachment (they look so cute even on the hanger how could you possibly get rid of them). But small children grow out of clothes almost as fast as the day you buy them,. Don't fret! If you plan on having more kids in the future, pack away the items until the time comes. Remember to pack in breathable linen with cedar spray to scare off moths and mildew.
If you have no need for the outgrown clothes, pass them off to a friend with small kids or donate to a children's home. Baby items are small and easy to pack away, so keep the tiny shoes and hats, and dresses, and don't feel guilty because they won't crowd the attic.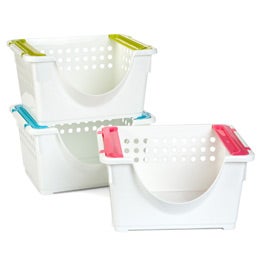 For toy organization, group into sets such as games, building, playing house, etc. Keeping all the parts of an activity together ensures they will be easily found and used.
Keep toys within reach. If it's easy for children to access their toys, then it's also easy for them to put them away;) Most toys that have small parts, like Legos or Barbie accessories, also sell containers that will store those tiny pieces.
Some of my favorite kid storage products:
Stack-able bins with openings to still get inside. Comes in 3 colors. Available at The Container Store. I used these in one of my projects and loved the turn out!
This bath storage whale can be a toy off duty! When bath time is over, simply 'swallow' the toys and hang it up.
A step stool with storage was always a necessity at our house growing up. We kept ours at the bathroom sink and stored our toothpaste and toothbrush so we could brush our teeth like big kids! My niece uses it now and will tote it into the kitchen to help Paw paw cook.
Copyright 2012 Get It Together Professional
Organizing
Photos courtesy of Google Images